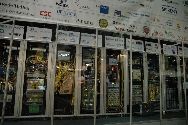 Techware Labs has published coverage of the Supercomputing 2006 Show in Tampa Florida. Here's a clip from the review:
"The Supercomputing show in Tampa Florida is here and so is TechwareLabs. We are bringing you full coverage of the event. The computing power in the exhibit hall is enough to probably host 1 million instances of Battlefield 2142 online at the same time."
Check it out over at
TechWareLabs
.