---
PC Power & Cooling Turbo-Cool 510 ATC-PFC
When it comes down to it, this is the most stable power supply I have ever had the chance to work with. It provides clean power no matter how hard the system is being pushed and no matter how dirty the input power is. Even plugged directly into my wall socket, I get stable power that does not fluctuate when the power demands in the room change. The optional inclusion of external voltage potentiometers, which allow for fine tuning of the 3.3V, 5V, and 12V rails, is extremely useful for enthusiasts that need to increase or decrease voltages to maintain a stable overclocked state
Review Link :
EnvyNews
---
Side Panel EL Applique Mod Guide posted
As a result of all the existing case mods... there was no usable space on either of my windows for the EL atomic applique that I bought from CrazyPC. I was determined to mod it into my case one way or another and it didn't take me long to decide upon the EL kits final destination. Looking at my case I saw that the only real blank space on my case is on the motherboard side so the decision was made to mod it into the side panel itself.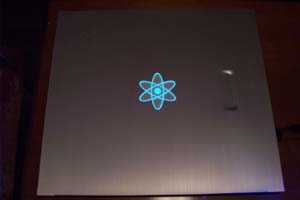 Guide Link :
CMG
---
Alien EL Applique review posted
EL neon appliques. I have been curious about these things since they first came out but could never see paying $24.95 for something so small out of curiosity. When I contacted CrazyPC requesting an atomic EL applique they offered up the alien EL applique instead. No problem, I could get an idea of how the atomic would look comparatively since they were basically the same color. But then I started thinking about a mod, a fairly major mod and suddenly I needed the atomic EL applique for my own case... so I went ahead and ordered one
Review Link :
CMG
---
CritiCool PowerPlant PCI Relay Card
The CritiCool PowerPlant is a PCI relay card that serves as a portal to bring 120 VAC power into the computer and automatically turns on or off a water-cooling system pump whenever the computer is started up or shut down. For its size and cost, this little card offers some elegant features. But the true brilliance of the CritiCool PowerPlant is diminished by several design weaknesses
Review Link :
Systemcooling
---
Black Enermax CS-101812 Server Case Review
Out of the box, my first impressions of the Black Enermax CS-101812 Server Case after removing the packaging were very positive. As previously mentioned there are several manufacturers who have used this specific type of chassis design but Enermax has taken it upon themselves to uniquely style this case with some nice changes. The case measures approximately 486mm (D) x 200mm (W) x 427 mm (H) and supports all ATX and Dual Xeon motherboards. The entire exterior is black coloured with the main focus on the front bezel design and aluminum brushed highlights.
Review Link :
MTB
---
irock! 730i Digital Audio Player
The irock! 730i is a small lightweight and stylish unit that caters to the people that want to listen to their music during their walk/jog/run around the neighborhood, doing some yard work, or just lying around the house. This is by no means meant to compete against the travel-around-the-country-with-all-your-music iPod from Apple. With the 730i and its 128MB of internal storage and SmartMedia expansion slot, it does bear some similarities to the iPod, notably the large graphics-capable LCD display, long battery life, and modest size
Review Link :
EnvyNews