---
Intel 865 Mainboards Roundup, Part 1
The i865PE chipset (or i865G with an integrated video core) looks a good alternative to its elder sibling. It's not much slower, has the same functionality (except the ECC memory support) and provides a lower cost of finished solutions. But the performance level of typical i865PE based boards is comparable to the fast i845PE based levels which are officially announced for operation with the FSB 800 MHz and DDR400
Review Link :
Digit-Life
---
ABIT BH-7 equipped with Intel 845PE
Intel has just recently produced two new chipsets, that are Intel 865 and Intel 875, which is capable of supporting the newer 800MHz front side bus CPU and dual-channel memory. However, companies like ABIT is still heavily promoting Intel 845PE board. It is still quite a reliable chipset for Intel Pentium 4 platform. Somemore, it is not only affordable, but has set of impressive features that we are about to embark into
Review Link :
MyWORLD Hardware
---
Contest
RipNet-UK is having a prize draw to celebrate the resurrection of the RipNet forums. Prizes up for grabs so far include Enermax and Vantec Fan / System monitors, a Leadtek WinFast TV2000 capture card, a Steelpad gaming mousepad, Everglide Cyborg gaming mat, ThermalTake fan grilles, a Databridge removable hard drive caddy, a couple of Volcano 9 Coolmod CPU coolers and a clear PSU cover.
Review Link :
RipNet
---
Seagate Cheetah 15K.3 Hard Drive Review
Here are the drives to be tested: Seagate Cheetah 15K.3 ST373453LW, IBM Ultrastar 36Z15 IC35L018UWPR15 and Seagate Cheetah 10K.6 ST373307LW. The IBM's drive is not new, it came to the scene a bit later than the previous generation of Seagate's 15K drives. The Cheetah 10K.6 was given birth to at the same time with the today's hero, but was originally positioned as a less efficient solution. That is why these two discs will hardly demonstrate enough strength to beat the Seagate 15K.3, they will just effectively emphasize its advantages. However, I must say that lack of strong rivals never was a good motive power
Review Link :
Digit-Life
---
Enermax X-Point CS-528 Computer Case Review
For the price of ~US$65, you really can't ask for more. It includes a 300 watt power supply, it has a removable motherboard tray, and best of all, it has a side window. Until now, I only thought these characteristics were housed in cases that were valued in the US$100 and up price-point
Review Link :
TweakNews
---
CPU-Kühler TR2-M1
Der CPU-Kühler TR2-M1 von Thermaltake den wir euch Heute vorstellen, hat einen Lüfter mit 3 LEDs. Dieser Lüfter macht auch schon den größten Unterschied zu anderen Lüftkühlern aus. Was allerdings auch sehr interessant ist, der Preis beträgt nur 14,90 €. Ob sich ein solcher "Billigkühler" lohnt und wie die Kühlergebnisse sind, erfahrt ihr in unseren Bericht.
Review Link :
Caseumbau
---
BeanTech BT-85 Prisma Prime Acrylic Case
I think this is one sexy case ! Beantech certainly has got it right with this one. The build quality and attention to detail can be seen all over this case. I already have many plans for modifications on this case such as adding a water cooling setup in it
Review Link :
Tech-Mods
---
Antec LANBoy
When we look at the inside rear of the case, we see that this plastic object has another function, but I'm not really sure why. You can see the plastic bay where the bag of screws was actually blocks off the card mounting screws. If you remove this bay, which is simple to do with the provided tabs, you can then access the card-securing screws via the outside of the case, not the inside.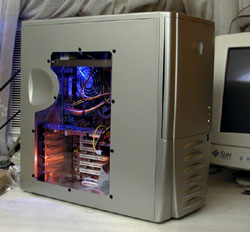 Review Link :
OCAU
---
Romtec TRIOS II Mutli-Drive Selector
Welcome to TRIOS. The Romtec TRIOS II is a second generation high-tech A-B-C switchbox for IDE devices. The original TRIOS is probably best known for its ability to select between any one of three connected hard disk drives (HDD) at the push of a button. This allows running three separate operating systems on one machine without the complexity of setting up multiple partitions on one drive and the possibility of cross-partition corruption
Review Link :
Systemcooling