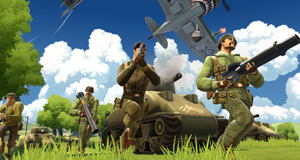 Bit Tech just published an interview with the Ben Cousins, executive producer for Battlefield Heroes.
"BT: Between the console-based Bad Company and the more casual, kind of accessible feel of Heroes, some hardcore fans may be worried that the once realistic, PC-only shooter is now...

BC: Changed?

BT: Yeah, like it's going to suddenly become this casual, console-only shooter.

BC: Well, I'm the executive producer on the franchise. I'm really in charge of the entire Battlefield franchise and it's very clear to me that there are three…well, we have to make this a three-pronged assault with the series really.

First, there are consoles. Consoles are really big, we can't ignore them, we have to be on the consoles. Second, there's this casual experiment we're going with Battlefield: Heroes and the third prong is the hardcore PC gaming experience. We've made those in the past and we'll continue to make them in the future. We aren't specifically announcing anything, but we are still going to keep those hardcore gamers very happy.

A lot of people are confused when they see Heroes because they see it and assume that that is the future of Battlefield on PC, but it isn't."
Read more
at Bit Tech
.