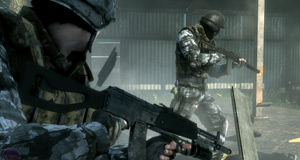 Bit Tech just published an interview with Jamie Keen, multiplayer producer for Battlefield: Bad Company.
"BT: You're sick of talking about premium content, I bet. But it was kind of a gutsy thing to do, you have to admit.

JK: Yeah.

BT: So, I guess – why did you try to do it? And why with this game especially?

JK: Yeah, so…I think the thing that people need to remember is that development costs on games these days are huge. So we always need to look at new revenue streams. It's not just a question of trying to rip people off and it's not just us trying to put one over on people – we genuinely need to y'know…well, at the end of the day it's a business, right? We have to recoup costs and we have to make money.

So, there are those kinds of things happening. You'll probably see more of that in the years to come. We've got nothing more planned at the moment, we've listened to the customers and the community is really important to us. We really want to maintain that two-way dialogue with our fans.

So, we're not going to be doing anything – I mean, we're giving Conquest away as free downloadable content later on. The weapons are now going to be free – we just hope that the fans see that we're listening to them. "
Read more
over here
.