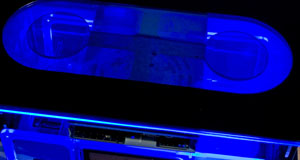 Bit Tech just published a worklog of Magnus Persson's latest custom PC modification:
"So now its time again for me, the crazy Swede, to build a HTPC case - but this time, I have strayed a bit from my usual path. I'm trying to go a bit more clean and stylish in my design than before.

My casemods usually have some skulls, flames or pentagrams in them, but this one has none of that at all. Even I get tired of the same old thing eventually, so now it's time for me to boldly go where I haven't gone before. My past projects like the Pentagram HTPC and the Weighted Companion PC were a lot of fun to build and I'm very happy with them, but fitting the pentagram beneath my TV turned out to be a bit of a problem. So, this time I'm going small sleek and stylish...or at least I think so.

The aim here is to build a case that could be used in any living room without scaring your grandma out of her socks. For me that is a bit of a challenge since I have no experience in this type of design. But, enough with the small talk - lets get to it and do some case building."

Check it out at Bit Tech.