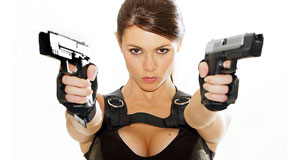 Bit Tech had an interview with Alison Carroll, the new Lara Croft girl.
bt: You spend a lot of time in Lara's outfit, running around with guns – so we can probably guess the reaction you get from men, but what sort of reaction do you get from other women? What do women tend to think of Lara Croft?

AC: Lara is a strong, independent and confident woman, so I think she's got great appeal to woman as well as men.

bt: You must spend a lot of time around the fans though– do you have any horror stories or stalkers at all? It must get a little surreal at times.

AC: Well, one very enthusiastic fan asked me to marry him once! On the whole though, the fans have been really fantastic. Obviously, it's a big change from what I was doing previously but I love every minute of it. I'm having a great time.
Check it out
over here
.