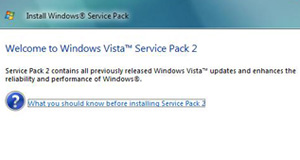 Bit Tech tested the performance of a beta version of the second service pack for Windows Vista, you can check it out
over here
. The reporter found some performance increases, but overall it wasn't really significant. Unfortunately, he also found a performance decrease of 5.5% in their GIMP image editing test and slightly slower system boot times and longer load times in Crysis. Power consumption wasn't tested, but Microsoft promises an increased power efficiency of up to 10 percent.
The best performance increase was in our Crysis benchmark with a pair of Radeon HD 4870 1GB cards running in CrossFire - Microsoft did promise some graphics performance improvements, but they weren't as unanimous as we were expecting them to be. This was really the only scenario out of the six that were tested where we saw any kind of performance increase.

Despite mentioning the GIMP image editing test as the application that suffered the most from the new Service Pack beta, it was the OS boot time and Crysis level load times that concerned us the most. We would have hoped the new Service Pack would improve boot times further and not increase them by between three and five percent.