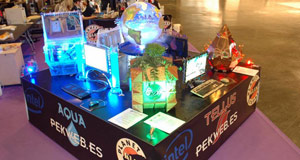 The build was designed around the four basic elements from Greek Civilization: Fire, Air, Earth and Water, although in the mod we've used the Latin wording: Ignis, Aeris, Aqua and Tellus. In its origins, they represent the basic composition of the cosmos. The idea goes that these four elements are not only the ones that built the world but the ones that can destroy it as well: a thought that's clearly prevalent again in modern society mainly due to climate change: fires, rising sea levels, hurricanes and tornadoes and earthquakes.
In other to put a strong emphasis on climate change because of human intervention, we have represented the centre of the world with smoke due to the heavy usage of our planet.
In the mod itself, each element was used uniquely: different sizes, materials and lighting allowed us to work with different modding techniques that allowed us to express our own personalities within each mod. The design phase, which took around six months, was spent using software to plan everything: SketchUp, Autocad 2007, Adobe Illustrator, Adobe Photoshop, Mathcad 14 and Microsoft Office. Because of the diversity, this phase required different studies in order to achieve effective designs that worked in the building phase of the project.
Check it out
at Bit Tech
.