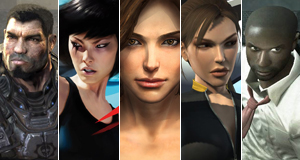 The end of the year is always a dangerous time for tech journalists because it's the time when we have to start putting together our 'Best Of' lists. Not only does that lead to plenty of in-office arguments but it also means that we get swamped with (hate-)mail no matter what games we include or leave out.
So, we're doing things a bit differently now. From now on you get to choose the best games of the year, leaving us to find other ways to vent our own thoughts on the matter, safely.
Over the next few pages we've broken down what we thought were our best single gaming moments of the year and why. We've each tackled the topic in a different way, each focusing on something different. While Harry talks about online gaming and multiplayer griefing, Joe's discussed how one specific game changed the way he thinks about games. Richard shares some of his favourite co-op gaming stories, while Andy stays fixated on singleplayer experiences.
And as for Tim, well as we write this little intro he still hasn't decided what he's going to talk about and will typically fill in the last page at the last minute! Tsk, Editors! They think they run the place! Rest assured though that whatever game he settles on he'll be sure to talk about it at length. Check it out
at Bit Tech
.