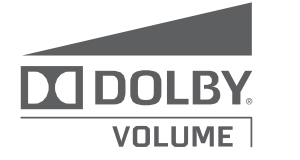 Bit Tech had a look at Dolby Volume Technology:
Arguably its greatest potential use - in mobile audio (read: MP3 players) - is furthest away from reality. Currently Dolby Mobile is a miniaturisation of Dolby Headphone technology and goes someway to correct the tins in your ears, but it also includes "tick box features" like spatial surround, although it also does extend bass response which is very important. What it doesn't do though is manage the bass in line with the mid-tones without having to really crank the volume to compensate.

Some of you may enjoy deafening yourselves while completely ignoring the world around you, and there is obviously an inherent limitation of dynamic range depending what headphones you buy, but potentially Dolby Volume could better stretch out the potential of any hardware, and its on-off nature that's tied into the volume control directly makes it completely intuitive.

We asked about getting it on the PC and unfortunately were told it was pretty much the same as above. Currently PC Dolby technologies are entirely software driven, but dependent on chipset support (to some degree) whereas Dolby Volume currently requires specific hardware. We've love to see it on some HTPC soundcards though and the sooner the better. Like we said above, future versions will be more suitable and the possibility of having them on a dedicated soundcard, whether software or hardware driven, would be fantastic, but that still requires additional software development to use it. In conclusion, we love it, but c'mon Dolby, we can't wait a few years! Please crank that development up a notch for those of us with PCs and MP3 players!
Read more
at Bit Tech
.