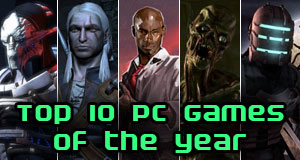 Whew, another year done and another 365 days of gaming content faithfully represented, critiqued and ripped apart for your reading pleasure. Now, we're all tuckered out.
We're so lethargic and lazy now in fact that, rather than having our usual week-long discussion about which games are best and how to present our choices and why the games are good and…Well, rather than that we decided to let you lot decide. A reader vote is so much easier on us than having to decide if World of Goo should go in our Top Ten PC Games of 2008 by having a huge fistfight.
So, we offered you the choice. We scribbled down the names of all the triple AAA games of the year, plus all the decent indie titles, and asked you to select your Top Three games.
We had an absolutely stunning amount of entrants – a number that would be record-breaking even if this wasn't the first time we've done this for the Gaming Awards – and we faithfully counted each and everyone, tallying them up to get this list. Read more
at Bit Tech
.