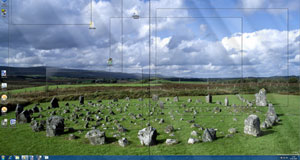 Bit Tech just published a look at performance of the Windows 7 Beta released last week, you can check it out
over here
.
Generally speaking, the performance is almost identical to Vista with an exception made for gaming, but we're putting that down to driver optimisations at the moment.

For the most part the benchmarks flicker back and forth between Vista and Windows 7 with no outright winner. There are a few concerns we have at this time though - file compression tests are notably and consistently slower and network copy performance is very slightly slower as well. However, on the plus side, the simple file copy testing is faster than in Vista and boot times are notably improved.

Windows 7 is supposed to be much more lightweight, too, and we've seen it running on Atom-based machines without too much trouble. We've obviously tested here with an incredibly high-end system and so the performance differences may not be as noticeable at this end of the spectrum. Where the optimisations might make more of a telling difference is at the lower end of the scale, where hardware performance is very much the bottleneck of your experience with an operating system like Windows Vista or Windows 7.

That's something we'll be looking at in the future without a doubt, but for now we can only go on what we've seen so far.

With that in mind, we haven't seen comprehensive evidence of any optimisation or slimming of the OS that we would have loved to have seen, but at least it's not even fatter like every previous generation of Windows has forced onto us. The additional features and OS tweaks are generally very good and very positive, despite the fact there are still elements of Vista-fail that need surgically removing (the sharing options would be a good starting point).