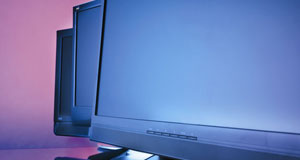 Bit Tech just published a feature titled The Dark Side of Overdrive, which looks at the problems - specifically input lag and inverse ghosting - associated with overdrive, the technology used to reduce LCD pixel response times
Faster is always better. Thanks to that simple philosophy, LCD pixel response times have been driven down to puny proportions in recent years. Today, even the slowest panels are rated at 16ms or better and deliver adequate response for all but the most fanatical PC gamers. High performance screens, meanwhile, now trade low single-digit millisecond blows in the battle for fast response dominance.

That's the good news; the bad news is that the quest for ever lower pixel response times comes with a pair of undesirable side effects: input lag and inverse ghosting. Superficially, the two appear to be unrelated, but they share the same underlying cause. The culprit is a response-enhancing technique known as overdrive. Also common to both input lag and inverse ghosting is a rather murky cloud of controversy. Some sneer at the idea that input lag even exists, while others argue that while it may exist, only pedants with a penchant for pointless whining could possibly notice it.
Read more
at Bit Tech
.