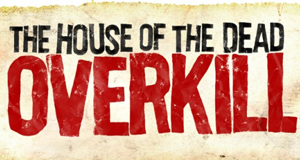 BT: Are you at all worried that someone like The Daily Mail is going to pick the idea up and make a big controversy out it?
N: I'd be really happy about it if it did happen! It would mean we'd done it right. We're not out to offend anyone, but this is what this game is about; leaving you shocked. At the end of the day, it's an 18 Certificate anyway.
BT: So, what extra kind of stuff is in the Director's Cut mode that is unlocked after you finish the game? The previous games always had the weirdest modes and power-ups. I remember there was one where you could shoot dead fish...
J: Well, yeah. I know the House of the Dead legacy and the way the games had unlockable routes and so on, but what we wanted to do was to make sure everyone who played was able to see the maximum content. We don't want people to miss stuff. So, while we don't have optional routes, the Director's Cut does have longer levels and better areas. It's more gory and more difficult too.
N: The credit system is different in DC mode too, so you don't have infinite continues based on your score, you just have three lives.
Read more
at Bit Tech
.