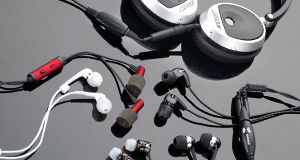 The trickle of bright white wires – first over black silhouettes in adverts, then from the ears of people passing you on the street, and finally from your friends and family – was the sign the iPod takeover was in full swing. While the white earphones were a big part of the iPod's distinctive design and brand, like most bundled earphones, they weren't actually much good for audio, so many devoted iPod fans ditched them for alternatives (better sound wasn't the only reason to get rid of the white originals, either).
When Steve Jobs introduced the iPhone, he praised it as 'the best iPod ever', and he was right: the iPhone's ability to play music while browsing the web and dealing with email has been rightly praised. When a call comes through, the music you're listening to fades gracefully away. Even better, Apple improved the bundled white headphones by adding a microphone and clicker-switch with decent remote control functions (as well as improving the material of the cord). Sadly, since the sound quality still leaves a lot to be desired, replacements are still in order – but ideally, ones that feature the clicker remote and microphone.
We've rounded up five sets of iPhone earphones and put them on test to see which makes for the best replacement. Read more
at Bit Tech
.