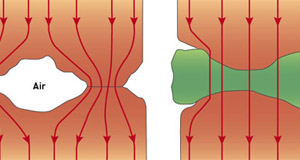 TIMs break down into two basic types. If you've bought a retail processor in the past, you'll probably be familiar with the thermal pad, which is a small square patch of phase-change material (one that changes state from solid to liquid according to temperature). At room temperature, it's solid or semi-solid, but once the CPU warms up, it softens to provide a thin, thermally conductive interface.
The thermal pad is often derided, but it has advantages. It isn't messy, it's pre-applied and it's evenly distributed across the surface, which is why manufacturers like it for their retail heatsinks. It's also less likely to creep in the long term than cheaper pastes.
However, a thermal pad's thermal conductivity usually isn't as good as that of proper TIM, and the pads only work under constant pressure from the heatsink retention clips. If these don't provide enough pressure, the pad is useless. In addition, there can be long-term problems; as the heatsink base and CPU grow or shrink due to heat, the pads don't always keep up, and air pockets can be introduced. Read more
at Bit Tech
.