CES 2011 – Smarter Homes with Samsung and LG
When you think about the Consumer Electronics Show, it's easy to get caught up in talk about the newest computer components or the hottest new televisions. That only makes sense, but this year could represent something of a tipping point of technology in areas you wouldn't normally associate with a trade show like CES. Like the laundry room.
---
Corsair at CES 2011 @ Techgage
Corsair continues to expand it's product range and at this year's CES, a few interesting surprises await. Last year, Corsair took the plunge into audio with the HS1 headset, this year it's brought high end speakers into the mix. There's a new member to the Hydro range of coolers and a couple more chassis' to be envious of. Read on for the details.
---
GIGABYTE at CES 2011 @ Techgage
GIGABYTE had lots to show off during CES, including its new G1 motherboard line-up, complete with onboard X-Fi audio and Killer E2100 networking... and also a bullet. In addition, the company talked about some of its overclocking-related motherboard technologies, along with its upcoming gaming peripherals and graphics cards.
---
MSI Master Overclocking Arena 2011: Operation Las Vegas @ Techgage
Las Vegas isn't just about the Consumer Electronics Show this time of year, other events take place as well. Head on over to the Pole Position Raceway and chill out with some liquid nitrogen, bad plumbing, great music and a race track as Richard Searle finds out what's happening down at the MSI Master Overclocking Arena 2011.
Zalman @ CES 2011
Zalman is no stranger to the PC industry and we had a chance to visit them at CES and see what they have up their sleeves. On top of the typical coolers, we saw their SSDs, drive enclosures, 3D Displays and more. All that at the links below.
---
CES 2011 – Getting Ergonomic with Smartfish
A couple of months ago, we took a look at the Smartfish ErgoMotion Laser Mouse, which has since taken on the official name of the Smartfish "Whirl" Laser Mouse with Anti-Gravity Comfort Pivot. Well, Smartfish had some new products to showcase at CES 2011, so we went to check it out.
---
CES 2011 – Joby Accessories for Apple iPad
Our CES 2011 coverage continues with a look at two new products from our friends at Joby. You might already be familiar with the company's GorillaPod product and its various variants. The flexible legs on the tripod allow you to attach your digital camera at just about any angle, providing for some very interesting shots.
---
CES 2011: More Cooler Master Storm Products & A New Water Cooler @ Hardware Canucks
This year's CES was an exciting time for Cooler Master, as the company expands its CM Storm lineup with a new range of products while finally launching a new water cooling solution after years of absence.
---
CES 2011: Antec Updates Chassis and Goes Under Water @ Hardware Canucks
Antec, a company once known for their quiet, office-centric cases has really embraced the enthusiast market this past year, possibly more so than ever in their 25 year history. We had a chance to go through the company's line for 2011 at CES, which involves a few updates to existing lines as well as embarking on a whole new cooling quest.
---
Futurelooks Checks out MSI's new INTEL Sandy Bridge P67 and H67 Series Motherboard
Futurelooks is at CES 2011 filming and covering some great products that we are going to share with you really soon. First up is a look at MSI's line up of Sandy Bridge P67 and H67 boards including a sneak peak at their brand new MSI Big Bang Marshall. We catch up with Rajiv Kothari from MSI so that he can give us a run down of what to expect from their new product line.
---
CES 2011 - AMD Has Some Fun With the FUSION Platform @ Futurelooks
Futurelooks was able to go behind the scenes to see a few of the applications that AMD has been working on with their new FUSION platform. As you'll see in this video, the small form factor has quite a bit of power behind it and some very fun applications.
---
SAMSON Shows Off The New AirLine Micro Wireless Camera Mic System @ Futurelooks
SAMSON shows off an amazing device for budget filmmakers. Their new AirLine Micro Wireless Camera System is an affordable, high quality, Lavalier mic system built for DSLRs and camcorders. It's small making it easy to carry and comes with a carry case. The system runs on rechargeable lithium ion batteries and the best part is the price: $299 US. It's due out April of this year.
---
CES 2011 Unveiled - Liquid Image Corp's Summit Series 1080p Recording Ski Goggles Demo'd @ Futurelooks
Futurelooks gets a demonstration of the cool new Liquid Image ski goggles that record full 1080p video onto a micro SD/SDHC card that fits into the frame. They retail for$400 and should start shipping in October 2011 just in time for the new ski season.
---
TechwareLabs CES 2011 Coverage: Digital Experience Powered by Pepcom
One of the most important press events before CES is Digital Experience powered by Pepcom. The event features the latest innovations from the world's leading technology companies. An independent event, the Digital Experience enables a first look at ideas, inventions, and products of a collection of companies in a more intimate setting. Each year the event features a unique theme, last year was safari and this year was Area 51. The extraterrestrial decor included alien women roaming the room and welcoming press attendees.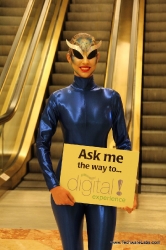 ---
CES 2011: CyberPower @ ThinkComputers.org
We all know CyberPower for creating powerful and affordable gaming systems for people who do not want to, or know how to build their own system. Check out our review of their Gamer Xtreme 5000 Intel P67 Sandy Bridge System. They had quite a lot to show us this year at CES so let's take a look…