AnandTech
has reviewed the Tyan Tiger i7500 motherboard :
For a little over a decade, Tyan has been providing the high-end PC market with motherboards; whether you were talking about the workstation or the server market segments, Tyan was there. Although they've never been too big in the enthusiast community, Tyan has had a few brief successes with desktop motherboards through the Tomcat and Trinity lines. What garnered Tyan the most attention in recent history was their standing as the first manufacturer to provide a dual processor Athlon MP motherboard - the Thunder K7. Tyan's close cooperation with AMD ensured that they were the only provider of Athlon MP motherboards for several months. Even today, most server manufacturers prefer Tyan's Athlon MP solutions over the Taiwanese competition.

Tyan's experience in the high-end market has given them significant time to market advantages which translate into better boards that hit the market shortly after a chipset is released.

Tyan was a launch partner with Intel's E7500 chipset but today they're introducing another board based on the chipset - the Tiger i7500. Why even bother with a new E7500 solution before Intel finally moves the Xeon platform to the 533MHz FSB? Tyan wanted to continue to hold their ground above the competition with the world's first E7500 board that can be powered by a regular ATX power supply in a standard ATX chassis.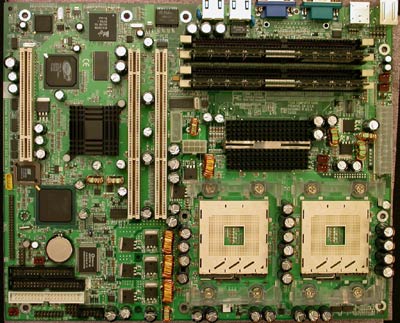 Review Link :
AnandTech