The French guys from
X86-Secret
are one of the first to pop out with a review of the new P4 3.06GHz CPU, Overall in WinXP the CPU performs well in the benchmarks, although in some cases he's a bit behind on the Athlon XP 2800+.
A downside of hyperthreading => In an OS with no optimizations for Hyperthreading like Win98/2000 the results are much lower than with Hyperthreading turned off...
Now remain to speak about the availability and price. Concerning the provisioning, according to a majority of wholesalers, Pentium 4 3.06 Ghz should not be present masses some before the end of November. The effect of advertisement being a fashion in this moment, one can consider that this time is reasonable. Thus, in December, Pentium 4 3.06 Ghz will as well as possible have like principal rival at AMD only Athlon XP 2700+, whose price should be excessive, just like besides the CPU of INTEL. To speak about the tariff, Pentium 4 3.06 Ghz is announced in the neighbourhoods of 600 & euro; Including all taxes and should undergo a fall of price in the first weeks of January. Let us hope that Hyperthreading will be declined on the models of low frequency, which would represent a very good Quality/Price ratio.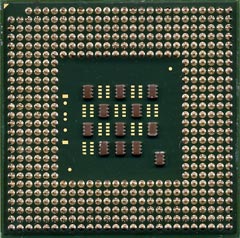 Review Link :
X86-Secret
(And take the Babelfish with you if you don't understand French like me