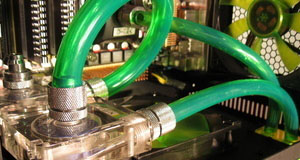 One of my favourite things about watching you guys mod is the concept of functional creativity. I love seeing the cases that are modded for increased form rather than function, don't get me wrong - many of you know of my love for the modeling-style cases, for example. But there's always been a real soft spot for creative engineering - looking at a problem with traditional cases, and coming up with a way of fixing it.
Several case makers read these forums for those exact concepts, in fact - do you really think that companies Cooler Master and Antec sit around and just dream up these great ideas in a bubble? Of course not - they look at some of the mods going on and find where people see weak points in their designs, and try to improve on them for the next round.
With that in mind, I hope someone's paying attention to oldnewby's build, dubbed Cygnus X1. He's become tired of the lack of component accessibility in cases lately, and has designed a scratch build centred around the ability to pull out the drives and motherboard in one chunk for easy access - the board on one side, the drives on the other.
Check it out
at Bit Tech
.