CaseModGod
teaches you howto make a switch bay :
This simple guide will show you how to make a switch bay from a 3.5" floppy blank. Since many modded cases have more than one light source either inside of or outside the case a front mounted switch bay can make turning them on or off easier by putting your switches onto the front of your case and within reach.

Below is a direct quote from the article:
"For something that is so easy to make it looks damn good. We have seen this same thing for sale at a mod store for $10 but they only have 2 switches, so ours is one better."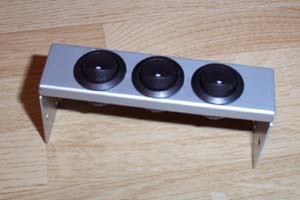 Review Link :
CaseModGod