pcToys SYSTEMAXX Fan Controller vs Vantec Nexus Fan Controller
Continuing on in our series of items that we have termed "functional eye-candy", we bring you one of the very best "Fan Controllers" we have had the pleasure to work with. I said one because both the "pcToys SYSTEMAXX Fan Controller" and the "Vantec Nexus Fan Controller" are obviously produced by the same manufacturer, so from this point on we'll refer to them as "the Fan Controllers" to simplify things.
Review Link :
Systemcooling
---
The $10 Case Makeover
The victim: an old 787 Midtower ATX case. Cigarette smoke has discolored the front bezel, there are also spots where it got hit with a marker and it basically looks like something you would find sitting out by the road on trash pick up day. It was a decent case back in the day but time has not been kind to it, it's definitely not a pretty sight in its current condition... but that's all about to change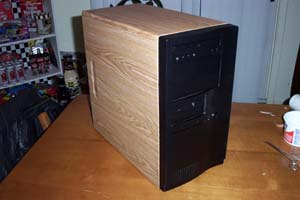 Review Link :
CaseModGod
---
Lamps Electronics Cold Cathodes
These cathodes are great. I HIGHLY recommend them to ANY computer modder. They are very high quality and they will last a long time. The color is bold and bright. The red doesn't look like pink or orange, the blue doesn't look purple or white, and the UV is one of the brightest I've seen
Review Link :
Review-Shack
---
Parallel Graphic LCDs goodness
Well, I was browsing the net a while ago... as you do... and I found these parallel graphic LCDs, so I thought i'd tell you what i've found, as it has been a while since ICE last showed you some LCD goodness.. They connect to your parallel port like the alphanumeric HD44780 modules that we know and love, but whereas your average alphanumeric might be 4x20 characters, these graphics come in sizes upto 320x240! However the one i'll be showing you is a 240x128 module.
More @
ICEHardware
---
How To Round Your Cables
Tons of People have rounded cables displayed in there case. Round cables are nothing new but some people don't have them. Today we will learn how to make your own rounded cables with objects around the house...
Review Link :
Computer Sphere