---
DFI's AD-77 INFINITY Motherboard
Just, wow. Just, feature full. I mean, where do I start. Alright, from left to right, bottom to top. We have the PS/2 keyboard plug, the PS/2 mouse plug. Serial Port 1 and 2, above that we have the LPT1 port. Next to that we have two USB ports, besides those two more. Above that 10/100 LAN plug. Next to that we have the sound hookups.
Review Link :
Review-Shack
---
PC Toys Dual UV Cathodes
What is UV? UV is after the violet end of the visible spectrum. UV cathodes are different from normal, and you need to see why. They're just awesome.
Review Link :
ASE Labs
---
CoolerMaster X-Dream CPU Cooler
Around here (East TN) the temps have been in the low teens (°F) for the past week or so... and with outside temps like that, keeping my computer cool, really isn't that hard to do. However, in the summer when things get up into the 90's I'll be more concerned about keeping my precious CPU cool. My family doesn't much care for my Tornado powered MCX462, so I've been looking for a new HSF that'll keep things cool and allow me to tone things down a bit when the computer isn't being used. That's where Cooler Master's new heat sink, the X-Dream, comes into play.
Review Link :
OverclockersClub
---
iRock! BLiNG MP3/CD/FM Player Review
Because it isn't a solid state player, I had some initial concerns about skipping if the BLiNG is use. The specifications state a two minute electronic skip protection (ESP), and 45 seconds for audio CDs, I was determined to put it to the test. I chucked the player up and down in my hands, as well as giving it a few shakes for good measure, and the player continued playing my tunes without issue.
Review Link :
Viper's Lair
---
Logitech Z-680 THX Certified Speaker Set Review
The total RMS wattage for the whole set is 500 watts, while the peak is power is 1000 watts. True Dolby Digital and DTS 5.1 surround sound with built-in hardware decoding, Dolby Pro Logic® II decoding creates a 5.1 soundfield from two-channel sound sources round out the features of this incredible package.
Review Link :
Logitech
---
nForce Soundstorm technology Review
Today on OCAU we have an overview of the Soundstorm technology present in NVIDIA's nForce and nForce2 chipsets. Also found in the Xbox, Soundstorm offers the unique ability to output an AC3 or Dolby Digital 5.1 digital signal which can then be decoded using an appropriate receiver.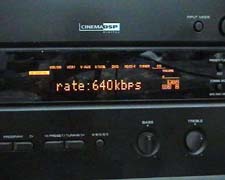 Review Link :
Overclockers Australia