---
FlexGlow Dual Bubble Light Cold Cathode Kit Review
Upon powering of the FlexGlow Dual Bubble Light Cold Cathodes, I was surprised at the amount of light being given off from a single LED in each tube. The ultra bright LEDs do a good job of illuminating the acrylic rods and effectively reflect off the many tiny bubbles creating a new cool lighting effect. This effect almost gives off the appearance of water yet the bubbles are simply many air pockets intentionally left during the machining process.
Review Link :
MTB
---
ATI All-In-Wonder 9700 Pro Video Card Video Review
The ATI All-In-Wonder 9700 Pro Video Card is one incredible product that's simply one of a kind. This card not only offers the same incredible gaming performance as the standard 9700 Pro Video card but comes with a TV tuner and a remote control. This product has it all and then some. Watch the Video to find out more..
VideoReview Link :
3dGameMan
---
Chaintech AV-515M Sound Card
Based on the C-Media DSP, Chaintech introduces a sound card that not only sounds pretty good, but sells it at a price that makes it an attractive alternative to the more expensive cards.

"The first thing that I must point out about Chaintech's AV-515M is that it is a budget sound card. In this review, I will be pitting it against a Creative Soundblaster Audigy Platinum. Pricewatch shows the card retailing for $126.00 USD + shipping, while Chaintech's AV-515M is listed for $21 USD + shipping. That's roughly a $100 difference between the two."
Review Link :
Viper's Lair
---
TwinTech's Firefly USBee 128MB keychain
After taking a look at the 32MB FireFly USBee drive earlier this year, we were excited to hear that TwinTech Industry was sending over a larger capacity FireFly USBee. As 32MB is good for an administrative assistant to tote all their Office docs, a power-user needs something more, something that can carry his/her music files, some small video clips, or even bring the latest OS service pack over to Grandmas house. This 128MB USBee can achieve just that, and also adds a degree of home-land security with its PI Protector software.
Review Link :
EnvyNews
---
Microsoft Wireless Optical Desktop for Bluetooth
Not only does the transceiver work with the Bluetooth keyboard and mouse, it can also accept other Bluetooth compatible devices as well. This can include mobile phones, handheld PCs, laptops, etc. Using these devices with your computer can make doing things a whole lot easier in terms of synchronizing and exchanging information between machines. e.g. synchronizing your phone book with your PC, synchronizing your Outlook calendar with your iPaq... the list of possible uses is endless.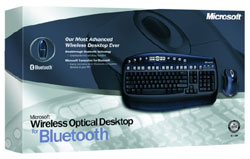 Review Link :
OCAU