---
Corsair XMS3500C2 Memory
The outside is pretty and all but what we're concerned about is under that heat spreader, so off it goes. Underneath the HS, to no surprise, is a beautiful set of Winbond 5ns chips. Last year Winbond developed a reference stick of PC3200 to show off their chips to manufacturers. The chips were utterly amazing! It was the fastest stick of RAM to ever grace a desktop. Lucky for us, Corsair and many others picked up on a good thing. Knowing Corsairs strict quality assurance policies and strict methods for choosing chips to use, Winbond seems like the perfect choice component to build the modules off of. Combine that with the gold plating and every other step Corsair takes in building the modules and you can understand why we went into the review considering it one of the best.
Review Link :
GruntVillE
---
Seagate Barracuda V SATA Drive Review Updated!
After our initial review of the Seagate Barracuda V SATA drive, we managed to test drive the hard drive with the built-in on board Promise SATA controller. However, the Silicon Image PCI SATA controller provided by Seagate along together with the drive seems to have some strange problem, as I've addressed the issue above here. Later, Silicon Image representatives contacted me and we both discussed the possible problems..."
Review Link :
myWorld Hardware
---
PCRange 3.5" USB 2.0 External Case
Today, OCAU looks at a USB2 enclosure for 3.5" IDE hard drives from PCRange. These sorts of devices have been around for a while now, but USB1.1 has always been a huge bottleneck for them. Does USB2 make them more useful for lugging large amounts of data around? And, how do they cope with modern high-speed, high-temperature drives?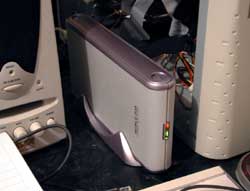 Review Link :
OCAU