---
Vantec Spectrum UV Reactive Fans
One of the most trendy and great looking items in computer cases these days are most definitely UV reactive items. Be it power supply covers, coolant in water cooling, or wire sleeving, you must admit that UV items are here to stay. Vantec, realizing the popularity of UV items, and also producing very high quality fans, decided to put 2 and 2 together. They now have UV reactive fans. Does the Vantec quality carry over to this product? How do they compare to the competition? Read on and you shall see.
Review Link :
The Tech Lounge
---
Plextor 504A DVD+R Recorder
Been a while since I've seen my name on this page, but I'm back now. I'll kick the door down with a review covering the Plextor 504-A DVD+R ATAPI DVD burner. I was pretty darned pleased with this drive and all the bells and whistles that come with it, but you'll have to read the review for yourself to see all the particulars. Read the review over at ClubOC!
Review Link :
ClubOC
---
BeanTech Igloo-9 Aluminium Case with Transparent Side Window
Over all a lovely case and could happily take a spot in my office, but firstly I would have to buy a new system to put into it... bank manager isn't going to like me for that
Review Link :
the ModFathers
---
MOD Oil Boy
Some projects seem mad, but we always crosses illuminated persons who ,with constructions, want to change and bring to the operation of an object a esthetism which is not required at the beginning. In fact the case in particular of Theoneo knew to make cohabit a fish aquarium, an old computer and approximately 25 liters of oil...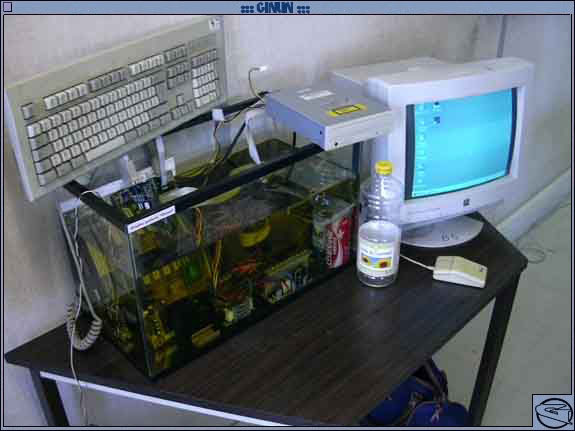 Review Link :
Ginun
---
Z-bra AlCu1 Heatsink Video Review
The Z-bra AlCu1 CPU Heatsink has a hybrid design (Aluminum + Copper) which has its advantages in keeping the weight and cost low, although it's not as effective as an all copper heatsink. It also has a decent clip layout for easy installation. Although, something that's troubling about this heatsink is the weak tension bar that could bend and result in a toasted CPU. Watch the Video to find out more
Review Link :
3dGameMan