---
CeBIT Sydney 2003
One odd thing that caught my eye (literally) was this iris-scanning system from Argus. I thought this kind of technology was years away from production use but Phil from Argus assured me they're using it in 120 locations around Australia, from the Commonwealth Bank to the Immigration Dept. No need for a passport, ATM card or pocket full of keys if you've got an eyeball, that's the goal for these guys.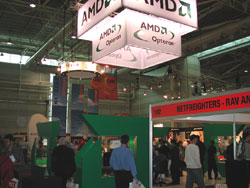 Review Link :
OCAU
---
Flexiglow Lazer Beam Kits
Laser LEDs? Internal spot lighting for your case. If you need spot light you might want to consider these. Read more to find out

Review Link :
ASE Labs
---
Software Giveway
Greetings from Hardware Extreme! We are pleased to announce an interesting giveaway in conjunction with our combo review of LIUtilities' WinBackup and SpeedUpMyPC.

STAND A CHANCE TO WIN all LIUtilities Softwares now! In addition, 10x consolation prizes of LIUtilities' latest software, SpeedUpMyPc will be given away, too! To participate, all you need to do is simply Register yourself to Extreme-Forums with a valid e-mail address (which we will use to contact you later on if you are the winner) and post a message in this Thread. Yes, that's all you need to do!
Contest Link :
HW Extreme
---
Nvidia GeForce FX 5900 Ultra graphics card
With the increased memory bandwidth and using only DDR memory the performance is back to the GeForce levels everybody knows and loves. It is easy to make a slip when you are on top. Can we all remember the performance of graphics cards say 10 years ago. Competition between now NVIDIA & ATI are giving us the customers really super products and picture quality especially with this GeForce FX 5900 Ultra.
Review Link :
A1 Electronics
---
Two Sunbeam reviews from OCA
OCAddiction busts out with a Double Shot of SunBeam goodness. What better way to get the weekend started than with some Rheobus, CCFL, and CCFL Fan action to spice up that brand new (and hopefully modded) case of yours? Let's see what the OCA crew had to say.

"The first thing you notice when plugging everything together is that the fan and CCFL have separate power leads. Now this is a good thing, as it allows you the option of fitting the fan power into a variable speed fan controller, thus ensuring that power to the CCFL remains unaffected whilst having the variable speed option at your finger tips."
Review Link :
CCFL
and
Rheobus
---
The Home Entertainment PC: Part 4 Assembly
Icrontic digs up a few tricks and items to keep in mind for Section Four: Assembly. The HEPC is a smaller case and with that comes some tight squeezes. We cover assembly, power supplies, heatsinks and we even show you a way to mount a fan on shock absorbing material because there is also the noise to contend with and the last thing wanted is a PC drowning out high fidelity sound.
Article Link :
Icrontic
---
Unique Hardware Contest I
Our new first UH contest is being held. We are looking for a new 468x60 banner for Unique Hardware, and this is your chance to win a Digital Persona Finger Recognition kit from Digital Persona. For more details on the contest, visit The Unique Forums.
Contest Link :
Unique Hardware