---
AuraVision Eluminx keyboard review
The first thing you'll notice is the similarity of the keyboard with that of a laptop, except for the numeric pad, which is hardly ever present on notebooks. This keyboard is ideal for people on the go or for use at a LAN-party. The size difference is quite striking and it does save space on your desktop!
Review Link :
Madshrimps
---
Vantec Spectrum UV Fans Video Review
The Vantec Spectrum UV Fans are currently available in four colors (Orange, Green, Blue and Clear) and when placed next to an Ultraviolet light they glow brightly. These fans not only look great they are also very functional and spin at 2900RPM, push 39 CFM and are 34dBA. It's time to consider removing all those plain black fans with these wife approved UV fans Watch the Video to find out more
Review Link :
3dGameMan
---
AMD AthlonXP 3200+
OCAU has reviewed AMD's latest CPU offering, sporting the Barton core and a 400MHz FSB. This review has a slightly different approach than our previous CPU reviews. We focused on isolating the performance advantage that the new 400MHz FSB and the not-quite-new 512kB L2 cache bring over previous AthlonXPs. The overall goal is to see if the XP3200+ name gives an accurate impression of the speed increase over previous CPUs.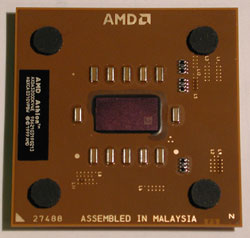 Review Link :
OCAU
---
M-Systems' DiskOnKey Pro
Review Link :
HardCoreMods
---
Chaintech Reloaded
New Orleans is known for Jazz, Cajun Food, and Mardi Gras; and this year was the site, at the DoubleTree Hotel, of Chaintech's first US press/media conference: Chaintech Reloaded.

"Chaintech also elaborated on how exactly their product lines were designed. Quite simply, Zenith is the highest end product they make, Apogee is their best bang for buck, and Summit is their budget or "cost-effective" line. However, their high end VGA line is Apogee. Chaintech didn't have a rock-solid answer for their reasoning behind using Apogee instead of Zenith for the product naming of their high end VGA card."
Link :
Viper's Lair
---
PenDriveUSA 32mb Pen Drive
The PEN DRIVE has revolutionized the personal data storage market. Its size, large storage capacity and USB port flexibility, the PEN DRIVE changed the way you store, share and transfer your data. Now you won't be bothered with time consuming installations, slow transfers, or the burden of carrying cumbersome accessories. With the PEN DRIVE, you can quickly synchronize critical data between school, work and home without hassle.
Review Link :
The Tech Lounge
---
Kingmax DDR-400 RAM
It seems that the stick of RAM that we have that bears the MPXB62D-68KX3 product label, does not meet the specifications given by Kingmax at all. In the very near future, the everyday PC user will be required to use PC3200 memory (DDR-400) and the motherboard will not allow you to use anything less than that speed. So if someone purchased this RAM in that scenario, their computer would not work at all... in fact, it would not even post! How is a user supposed to use a computer at DDR-400, if the RAM does not even run at that speed!
Review Link :
Legit Reviews