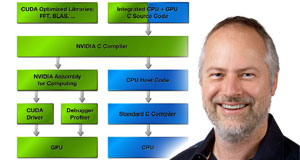 Bit Tech had a chat with David Kirk, Nvidia's Chief Scientist. During the interview they discuss the changing roles of CPUs and GPUs, GPU Computing, Larrabee and what he thinks about Intel's and AMD's futures.
What would happen if multi-core processors increase core counts further though, does David believe that this will give consumers enough power to deliver what most of them need and, as a result of that, would it erode away at Nvidia's consumer installed base?

"No, that's ridiculous – it would be at least a thousand times too slow [for graphics]," he said. "Adding four more cores, for example, is not going anywhere near close to what is required."

But what about Larrabee – do you think Intel will get close to Nvidia with that? "There are no numbers [for Larrabee] yet – there's only slideware. The way that slideware works is that everything is perfect."

What if Nvidia has underestimated Intel though and they build an efficient microarchitecture that scales really well in graphics? "I'm not going to get into all of the details especially for Larrabee, but they're missing some pretty important pieces about how a GPU works. Without being too negative, we see Larrabee as the GPU that a CPU designer would build, not the GPU you'd build if you were a GPU designer."
Read more
at Bit Tech
. The article is eight pages long but it's a very interesting read.