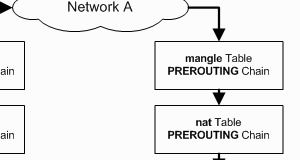 A lot of people have been building their own home servers based upon Ubuntu, a user friendly Linux distribution. The brave souls among them even tweaked some bits on their completed builds. Now, it's time to take it a step further.
In this next article we'll be adding a bit of functionality to our server, transforming it into a router with an integrated firewall. But of course you can also build a entirely new box for it, like I did. I used a minimal Debian install so I could start with a fresh system.
Due to the complex nature of iptables, the package that controls all the routing and filtering goodness, it will be required to have some basic knowledge about all the CLI capabilities on offer in Linux. Because all the iptables rules and settings will be entered through commands, a BASH script will be used to define the configuration. Aren't you glad we covered all of that previously? Check it out
at Bit Tech
.