Bit Tech published the worklog of Coolmiester's Cosmos Skulltrail case mod:
Project: Skulltrail was conceived "way back" in March of 2008 at CeBit, where Cooler Master first asked if I'd mod its new flagship case - the Cosmos S. At the same time, the company was curious as to whether I could get more performance from its new Aquagate Max drive bay inserts.

So, given my mission, I came away from CeBit knowing that I would need to come up with something a bit special. Not only would it need to be good in the looks department (without robbing the CM Cosmos-S of its unique looks), but also performance. After a second, I thought, "What better than a new Skulltrail system to prove the capability of the heavily modded Aquagate?"

From that point forward, the project snowballed thanks to some major sponsors getting involved including Intel, Zotac, and HWLabs.

Once the hardware was finalised, it soon became apparent that it would need to be a dual loop system with the two Core 2 Extreme QX9775s and the northbridge on one loop, and the two Zotac GeForce 9800 GX2s and the RAM in the other (no southbridge watercooling as the GX2s completely obstruct access) so I set about modding two Aquagates.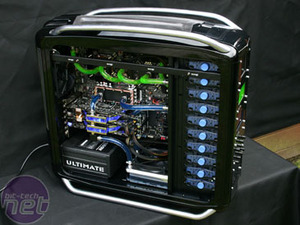 Read more
at Bit Tech
.