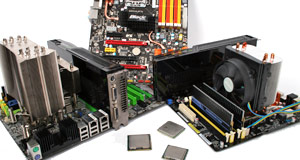 Bit Tech just published a feature titled Intel Core i7 CPU and Platform Value, which looks at the relative value of Intel's Core i7 processors and the cost of a complete platform upgrade.
Without overclocking we have to say that AMD provides the better value platform and generally better value CPUs compared to Intel's current Core 2 range. If you were just simply interested in squeezing every last penny out of your purchase, these are the platforms to go for. While the Intel Core 2 range performs better, the performance increase doesn't always necessarily warrant the jump in cost.

The E8400 overclocked is also very good, as is the AMD Phenom X4 9850 at 3GHz - both make great value purchases in a similar budget, although both have different performance strengths. The E8400 is great in games and is a single threaded monster, however the Phenom X4 provides a very cheap multi-threaded cruncher. However, unfortunately for AMD, if you want multi-threaded munching on the cheap we're back to the Q6600 with DDR2 again.

AMD should take away the positive result that while in a direct performance comparison it'll lose out to Intel's Core 2 range, most of Intel's current quad line-ups are clearly too expensive and provide a negative relative value for money..
Read more
over here
.