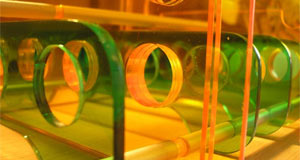 Bit Tech published their mod of the month, for November it's a mini PC build around the VIA C7 platform. You can check it out
over here
.
I have to admit, I have a bit of a soft spot for small form factor case mods and jhanlon303's latest project is another that has grabbed our attention this month. jhanlon303 has been making some good progress and, unlike his fellow modder on the previous page, he prefers a more hands on approach to planning.
/
jhanlon303's latest project is based around a VIA C7 platform and, as I'm sure you've guessed from the name, he's planning to watercool it. Excessive? Yes, but does that matter? Absolutely not - it's awesome!
/
In fact, it's adding an interesting dimension to the project because jhanlon303 chose such a small case as a starting point - but he's interestingly building his own shell from scratch merely using the chassis as a starting point. Nevertheless, I'm looking forward to seeing how he manages to squeeze all of the watercooling gear inside such a small space.
/
There is, after all, an underwritten rule for VIA C7-based SFF mods - it's that everything has to fit inside the case.