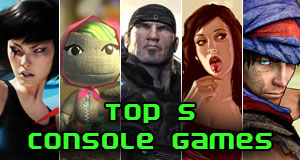 Part platformer, part content creation tool, LittleBigPlanet comes from a group of ex-Lionhead developers who sought to bring their unique sense of humour to the PlayStation 3. While a good part of the game is actually built as a frustratingly difficult 2D platformer, the core part of LittleBigPlanet is actually a complex series of tools that let players make their own levels and experiments. Think Garry's Mod for consoles.
That freedom and continually expanding database of content is a great thing for the PlayStation 3 and while games like Left 4 Dead can claim serious amounts of replayability through the AI Director system, LittleBigPlanet puts that to shame by letting players make whole new levels and puzzles in just a few flicks of the trigger fingers and thumbs. That's something that no other console has!
In fact, not only does no other console do it quite like LittleBigPlanet, but no other console really could. LittleBigPlanet thrives on the unique features of the PS3, such as free online connection and the option to plug in a USB keyboard, making it one of the few must-have titles for Sony's monolithic console. Read more
at Bit Tech
.