PC Stats
has reviewed the MSI KT4 Ultra-FISR KT400 :
The MSI KT4 Ultra-FISR is one of the best AMD motherboards we've ever tested. In terms of hardware features, the MSI KT4 Ultra-FISR has absolutely no rivals. What other motherboard out there has onboard 5.1 audio (hardware), Gigabit ethernet (10/100/1000), IEEE 1934 (firewire), USB 2.0, optional bluetooth , Serial ATA, IDE RAID, 8x AGP, six PCI's and three DDR400 compatible DIMM slots? None comes to my mind.

We were a bit surprised by the fact that the VIA KT400 chipset doesn't seem to perform better then the older KT333 based motherboards that we've tested in the past... To be honest though, we're not really surprised since the Athlon can't take advantage of the extra memory bandwidth that the KT400 offers.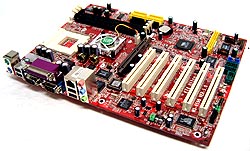 Review Link :
PC Stats