TechwareLabs Event Coverage: CES 2011: CES UNVEILED Roundup
The CES 2011 Trade chow produced by CEA will be the largest show held in Vegas since the inception of CES. CES Unveiled the first of press event of CES kicked off at the Venetian on Tuesday January 4th. Over 60 different companies comprised the sneak-peak event held a couple of days before the main trade show begins at the Las Vegas Convention Center this Thursday. Join us as we highlight some of this years exhibition products…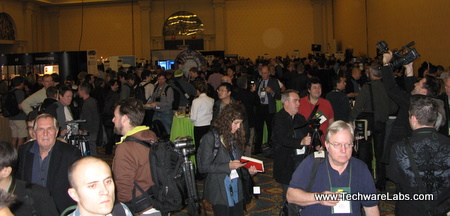 ---
CES 2011: Corsair Press Event @ ThinkComputers.org
Our friends at Corsair were nice enough to invite us to their pres event at the V Bar at the Venetian Hotel. Corsair we all know for memory and that is how the company started, but over the past year they really have made a push into other markets instead of just memory. We have seen products like the 800D Case and the HS1 Headset. Well they have even more products planned for 2011. Corsair wants to be the top brand in 2011 and as they said in their press conference, "We want you to buy your processor and motherboard and buy everything else from us".
---
Trendnet Press Show and Coffee
---
Microsoft Keynote @ CES 2011
We attended the CES 2011 Keynote by Microsoft and learned a few new things - and found a couple to get excited about.