Frosty Tech
brings us another heatsink review of the AVC Tundra 2 Copper Skive :
I always like to know something about how a heatsink is made, and the concepts behind it when I sit down at the test bench and begin evaluation. Knowing this information is something you can't just read off the box, and the extra knowledge comes in handy when trying to decipher the concepts behind the heatsinks construction. When AVC sent in their full-copper skived Tundra 2 socket A heatsink, I was pleased to see a full set of blueprints accompanying it.

If you've ever wondered what a heatsinks' blueprints look like, they are basically a set of mechanical and exploded diagrams which outline each parts' shape and dimension. Since this is a full copper heatsink, we also know that the 1110 Copper alloy is 99.9% pure. But enough of that - it's the heatsinks performance we're after!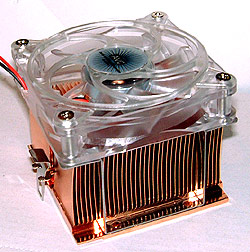 Review Link :
Frosty Tech